Interesting Festival announces its launch, driven by
DONESenART
.
Notícia apareguda in the World.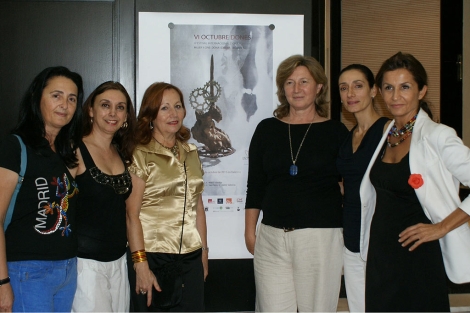 Step Henar, Main A. Mills, Antonio Bueno, Giovanna Ribes, Rosana Pastor, Nuria Cidoncha.
Bel Carrasco | Valencia
A total of 40 Spanish and foreign films directed by women participan the International Women Film Festival framed inside the VI October Women, organized every year by the association DonesenArt Valencia, to be held in Valencia 3 the 7 October.
"Joining the different disciplines of art from the theater to sculpture, from painting to cinema, the performance of literature, dance to mime and circus music is the goal of this festival", Giovana said Ribes de DonesenArts. "It is make women's network, work together to learn from each other and, finally, make known to others our ability".
In this line of action, one of the arts that could bring together all the above is the cinema. In the movies fit all disciplines and "nothing better than women directors to offer this opportunity", Ribes said.
The festival has an official section that will compete 40 movies, selected from over 100 papers presented, from 11 countries, all of them directed by women. Half are Spanish and the other half from countries as diverse as Australia, Canada Mexico, Cuba and Colombia.
There are two feature films and several shorts Valencia. The cycle 'Women behind the camera' is dedicated to the Spanish who have written pages in the history of Spanish cinema. Finally, master class workshops and closed the four days of screenings and activities that make up the festival, to take place in two spaces: Sala Street Blanquerias SGAE and the Instituto Luis Vives de la calle Xátiva.
Ines Paris, Cecilia Rosana Pastor Bartholomew will attend the festival and your name will join a long list of women filmmakers who will compete in the various sections of the festival. More than forty works that are scheduled in competition with other activities of the First International Festival Cinema Dona i.
The international jury is composed by Beatriz Flores Silva (Belgium-Uruguay), Isa Albuquerque (Brazil), Fabian Roth (Argentina) and Maria Tomàs (España) feature films. For its part, Espaine short component in: Veronica Pamoukaghlián (Uruguay), Marcela Cea (Chile) and Genoveva Català Felguera (España).Spain